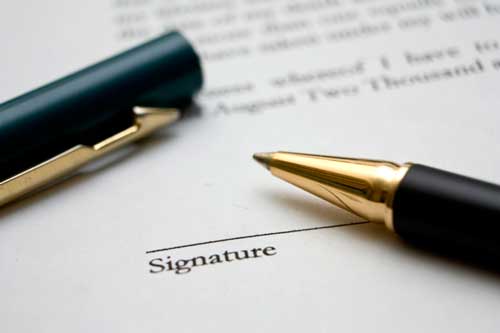 Contracts and contract reviews are part of everyday life for Bay Area businesses. However, many business owners and managers make mistakes when creating, considering or approving a business contract that can have catastrophic ramifications on your business. Here are five common mistakes in business contracts and how to avoid them.
1. Using Internet or Ready-Made Contract Forms
There are several reasons a ready-made contract form will not work for you and your business. They include:
Contracts must be relevant in your locality. A form contract from Michigan may not contain clauses that are standard in California contracts.
State laws are varied. The law could be different from where and when the contract was originally drafted. You must review borrowed language from such a contract for amendments to relevant state law, including additions and subtractions to the various codes at play in the agreement.
Contracts are drafted from the perspective of one side over the other; is the form contract you are reviewing beneficial or detrimental to your deal?
Contracts for one type of entity may not be relevant for other types of entities
2. Seeking Legal Advice After Signing the Contract
Even if your deal is relying on a generic contract template you pulled from the Internet, have a business contract lawyer review it before you sign it to make sure it protects you and includes all of the terms it should and does not put your business at risk.
3. Forgetting the Recitals
A recital, in legal terms, is a preamble to the contract. It provides a general idea to the reader about who the parties are, what the contract is about, and why the parties are signing the contract. Often overlooked during the contract drafting and negotiation phases, when a dispute arises over contractual interpretation, the court or arbitrator may use the recitals as an aid to interpretation of the contract. Focus on the operative provisions of the commercial contract, but do not forget to set the scene and provide the reader of the contract with background information.
4. Not Knowing Which Clauses to Include and Which to Leave Out
Not understanding boilerplate (standard contract clauses) can come back to bite you when a dispute arises. A business lawyer provides advice as to which clauses should be included in your contract and which clauses should not.
For example, an assignment clause should be included in a commercial contract. An assignment clause will permit you to assign the contract to another entity (someone who buys your business). Without an assignment clause, the contract may not be sold or transferred should you sell your business after the commercial contract is signed.
Another issue that can be addressed by a business attorney is whether a contract should include an arbitration clause. The arbitration clause must also contain information about the impact of any decision by an arbitrator. With no or weak arbitration clause included, the statement may be advisory and not enforceable.
5. Forgetting That Words Have Meaning
Form contracts are notorious for containing vague and ambiguous language. Using words without clear definitions is dangerous to contracting parties because it places the interpretation of such language in the hands of someone else. Ambiguities are normally construed against the drafter of the contract. It is possible then that ambiguous language will have at least three interpretations – yours, the other party's, and the court or arbitrator's. A court or arbitrator may be bound to interpret such a clause using the custom and practice of your locality, which can be different from the custom and practice of your industry and even your intent at contract formation.
Ask Us to Review Your Business Contract
Make sure that your commercial contract is in writing and reviewed by an experienced and knowledgeable business contract attorney who can provide you with actionable advice and counsel to protect your business.
Avoid these and other common business contracts mistakes. Contact us now about reviewing your commercial contract before you sign it. We represent and counsel clients in Fremont, CA and the surrounding communities of Newark, Hayward, East Bay, Milpitas, Union City, San Leandro, Gilroy, San Jose, and Santa Clara, CA.
arbitration clauses, business contracts, contract attorney, contract mistakes