Selecting the Right Business Entity When Starting a Business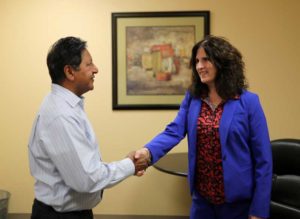 One of the most important choices you will make when starting a business is selecting a type of legal structure for your company. This decision impacts how much you pay in taxes, the amount of paperwork your business is required to complete, your personal liability, and your ability to raise money to expand or grow.
There are three primary factors that will guide the type of business entity you choose — liability, taxation, and record-keeping. Choosing the correct business entity should be a thoughtful decision. Weigh the pros and cons of each and explore how such an entity can help your business launch, expand, and grow. Business entities are not written in stone and you may change yours as circumstances dictate.
The four most common business entities and what distinguishes them follow:
A sole proprietorship offers complete managerial control to the owner. As the owner you are also personally liable for all the financial obligations of your business. Of all the business entities, a sole proprietorship is the riskiest, placing your business and personal wealth in play when the business cannot pay its financial obligations.
A partnership is a business of two or more people who agree to share in the profits and losses of a business. Like sole proprietorships, each partner is personally liable for all the financial obligations of the business, jointly and separately.
A corporation is a legal entity that is separate and apart from the owners who created it. The corporation can make a profit, is taxed, and can be held legally liable for its actions. The owner's liability for the financial obligations of the corporation are limited to the value of the shares the owners have in the corporation. Corporations are the most expensive business entity to form and maintain and have extensive record-keeping requirements.
A limited liability company (LLC), is a hybrid of a corporation and partnership business entity. Owners are only liable for their "shares" in the LLC and profits and losses are passed through to the owners individually without taxation of the business entity itself.
Set Up your Business, Register, and Comply with Record-Keeping Requirements
You should seek expert advice from a business attorney when considering the pros and cons of various business entities, the registration requirements in your locality, and the ongoing record-keeping requirements your business must follow at its formation and beyond.
If you are an aspiring business owner or entrepreneur, we can help you turn your ideas into actions and select the right business entity for your new business. Our experienced business attorneys can partner with you to build a lasting relationship that is mutually beneficial. Contact us today for an initial consultation. Located in Fremont, CA, we serve Newark, Hayward, East Bay, Milpitas, Union City, San Leandro, Gilroy, San Jose and Santa Clara. We look forward to putting our legal experience to work for you.
---
WSI Genesis
Action Hosting - WSI Genesis Google Cloud hosting solutions are designed to meet your growing business needs. Providing the most advance Wordpress development and hosting on the Google cloud.
---