Common Mistakes Made in Contract Agreements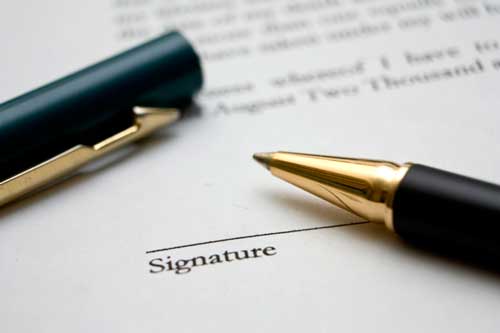 Contract agreements are the basis of most commercial transactions in California. Whether you are starting a business, buying or selling a company, entering an agreement with a vendor/distributor, or hiring a new employee, you will benefit from a professionally drafted agreement that establishes and protects your rights and interests.
A proper contract is all about the small details. Even a relatively minor error could cause serious headaches for you or your business. With guidance and support from a local contract attorney, you can help avoid the most common mistakes. Here are four common mistakes made in contract agreements to watch out for:
1. Failing to Draft a Written Contract
You can enter a contract agreement without writing anything down. Oral contracts are (often) enforceable in California. Under Cal. Civ. Code § 1622, "all contracts may be oral, except such as are specially required by statute to be in writing." That being said, it is almost always a mistake to rely on an oral agreement. Not only does a written agreement clarify expectations and avoid misunderstanding, but it will make it much easier to protect your rights should a dispute arise.
2. Copying and Pasting a Template Agreement from the Internet
It does not take much internet research to find some basic contract templates. The 'copy and paste' approach to contract drafting is not good enough for you or your business. When parties rely on a pre-built template agreement, they frequently run into problems. A proper contract is one that is customized to meet your specific agreement. Copy/paste language is often inapplicable and inadequate.
3. Signing an Agreement that You Do Not Fully Understand
Do not sign a business or employment contract unless you fully understand the terms. In far too many cases, people run into problems because they signed an agreement they simply did not understand. Before you finalize an agreement, take the time to carefully read it over. Pay close attention to all the specific terms.
4. Not Working with a Local Business Contract Lawyer
Contracts are complicated. You do not need to negotiate and draft an agreement alone. Professionals and business owners can benefit from the guidance of an experienced California business contract lawyer. Among other things, your business attorney will:
Understand your purpose and objectives
Review the specific terms and conditions of the agreement
Fix any ambiguities or errors in the contract, and
Negotiate any terms that are unfavorable
It is important to remember that business contracts are fundamentally negotiable. You have the right and ability to seek better terms. Do not finalize an agreement until you are satisfied with the contract.
Contact Our California Business Contract Attorney for Help
Attorney Lynette Ariathurai is an experienced, reliable contract lawyer. If you have any questions or concerns about business or employment contracts, our team can help. Contact us now for a completely confidential initial consultation. From our office in Fremont, we serve communities throughout the East Bay, including Hayward, Milpitas, Union City, San Leandro, and Newark.