DISCRIMINATION AND HARASSMENT REQUIREMENTS FOR BUSINESSES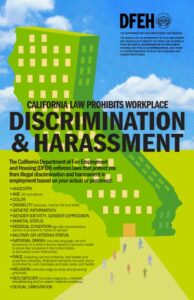 Successful businesses have strong, well-designed employment policies in place. All employers in California should be in full compliance with state and federal anti-discrimination and anti-harassment requirements. Comprehensive policies can help to prevent claims, limit conflict among employees, and reduce the risk of liability.
Attorney Lynette Ariathurai is an experienced employment law attorney for employers. If you have any questions or concerns about developing or implementing workplace policies, we can help. Call our Fremont law firm today to set up a strictly confidential initial consultation with a California employment lawyer.
California Law: Required Postings
Under California law, employers are required to put up a variety of notices around the workplace. These postings should be in a conspicuous location so that they can be readily seen by staff. The notices are meant to inform employees about their rights, including how to file a claim and/or report a violation. Here is a sample version: California Workplace Discrimination poster.
California Law: Sexual Harassment Training
In recent years, state lawmakers have put additional regulations in place to help address the problem of workplace sexual harassment. Many companies and organizations in California are required to provide periodic sexual harassment training. As explained by the California Department of Fair Employment and Housing (DFEH), employers with at least five employees are required to provide "sexual harassment and abusive conduct prevention training" to their staff members at least once every two years. There must be:
One hour of training for nonsupervisory employees
Two hours of training for supervisors and managers
Employers Should Promptly Investigate Allegations of Discrimination/Harassment
Under state and federal employment laws, workers have a right to report a claim. Employers should have carefully-designed policies in place to ensure that all allegations of discrimination and/or harassment are promptly investigated. Employees are entitled to a fair response. A proactive, comprehensive, and objective investigation of employee claims will ensure compliance with California law and will put an employer in a better position to respond to the matter.
Our Employment Attorney Drafts and Reviews Policies and Handles Claims
Creating effective workplace policies is complicated. It is important to consult with a California employment law attorney who has the experience and knowledge to draft and review your company's procedures. With more than two decades of legal experience, California employment law attorney Lynette Ariathurai can help your business or startup meet all state and federal discrimination and harassment requirements. Should any issues arise with an employee, our firm can help you handle the matter in compliance with California law.
Get Help from Our Fremont Employment Law Attorney for Employers
Attorney Lynette Ariathurai is an experienced advocate for employers. If you have questions about discrimination and harassment requirements for businesses, our law firm can help. Call us today or get in touch with us online for a strictly confidential appointment with an employment lawyer. With an office in Fremont, we serve employers throughout the region, including in Alameda County, Contra Costa County, and Santa Clara County.
Let Us Help You Today
Starting now is the time to educate yourself about employment law and let our lawyer help. Contact us online to schedule an appointment.